Project description
Mutations in CLN3 and CLN5 proteins result in a neurodegenerative disease in children called Neuronal Ceroid Lipofuscinosis. However, the functions of these proteins is still not well understood, hampering the development of therapeutics for these patients.
We have previously shown that CLN3 and CLN5 control the endosome-to-trans Golgi network sorting of the lysosomal sorting receptors. Our interests are to determine how CLN3/CLN5 regulate other endosomal pathways, and to determine the function of CLN3/CLN5 in other diseases such as Alzheimer's disease. We use a variety of cell biology and biophysical methods including: fluorescence and confocal microscopy, genome editing using CRISPR/Cas9, induced pluripotent stem cells (iPS cells), image analysis with Single Particle Tracking, and Bioluminescence Resonance Energy Transfer (BRET).

Research area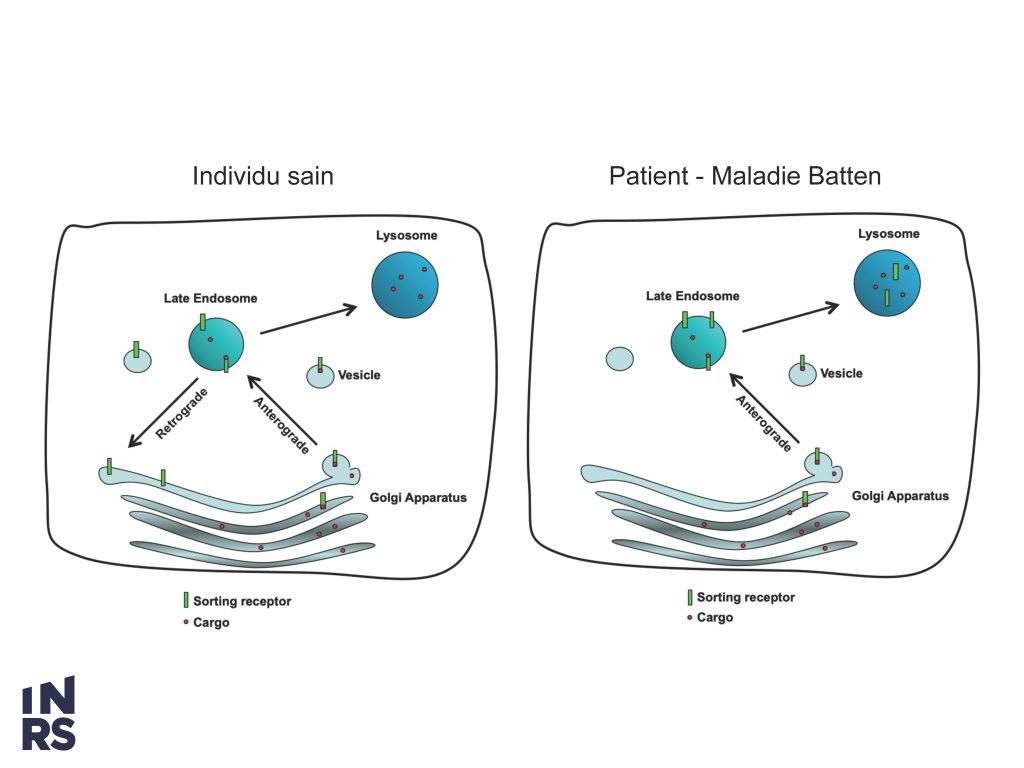 Starting date
Fall 2020 or Winter 2021

Research advisor

Financial support
Our Research University offers many scholarship programs. Every student-researcher benefits from a grant during their higher education studies. These positions are fully funded by CIHR.

Program
Master's degree in experimental health sciences or doctorate in biology.

Profile
We are looking for highly motivated individuals with a background in biochemistry, biology or relevant fields.

How to apply
Interested candidates can submit their application to Professor Stéphane Lefrançois by using the online form.
The application must include:
cover letter
CV
copy of most recent university transcripts
Questions
Stéphane Lefrançois, Ph. D.
stephane.lefrancois@inrs.ca
450 687-5050 # 8860
Site Web